Guidance - Good practice during Wind Farm construction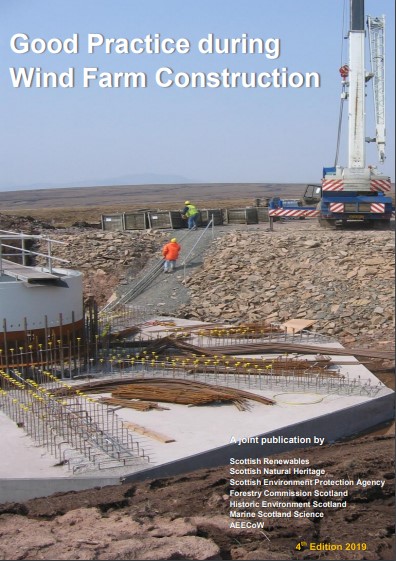 The Scottish Government and its agencies support the development of renewable
energy, including wind farms, as a key means of tackling climate change.
Considerable experience has been gained from the construction and operation of
wind farms across Scotland with an installed capacity totalling over 7500
Megawatts. The purpose of this guidance is to share that experience amongst the
industry, planning authorities, key agencies and those more broadly involved in
the planning and development of wind farms. It is focused on pollution prevention,
protection of the environment and natural resources, hydrology and archaeology
related issues and the adoption of biosecurity protocols, including the control of
invasive and non-native species.
This guidance is aimed at:
Wind farm developers
Construction companies and contractors working on wind farm sites
Consultants and advisers supporting the wind farm industry
Planning officers working on wind farm applications
Statutory consultees and Key Agencies,
Clerks of Works
4th Edition
Pages: 83
Published: 2019
Document downloads
Disclaimer: Scottish Natural Heritage (SNH) has changed its name to NatureScot as of the 24th August 2020. 
At the time of publishing, this document may still refer to Scottish Natural Heritage (SNH) and include the original branding. It may also contain broken links to the old domain.
If you have any issues accessing this document please contact us via our feedback form.