Exploring without disturbing wildlife
When you're spending time in Scotland's great outdoors, there are plenty of opportunities for spotting stunning wildlife, but it is easy to get too close.
Follow this guide to learn what we mean by 'disturbing wildlife', get top tips for protecting Scotland's wild animals when exploring, and discover how following the Scottish Outdoor Access Code can help conserve threatened species and sensitive sites.
What is wildlife disturbance?
When our actions cause an animal to feel threatened, and it actively tries to escape from us or change its behaviour, this is known as wildlife disturbance. Examples include flocks of birds flying away, hauled-out seals stampeding into the water, and otters abandoning their hunt for food.
However, disturbance can be as simple as an animal looking directly at us because it has become watchful in our presence.
Wildlife disturbance can also happen without an animal being there – for example, if we accidentally trample on a nest.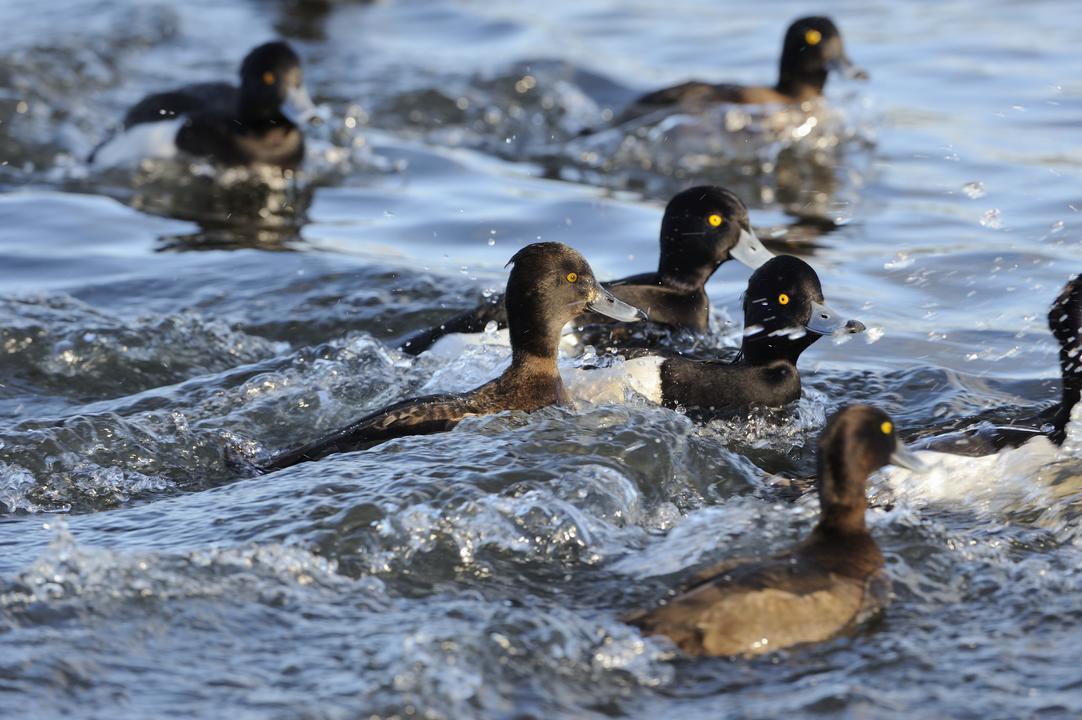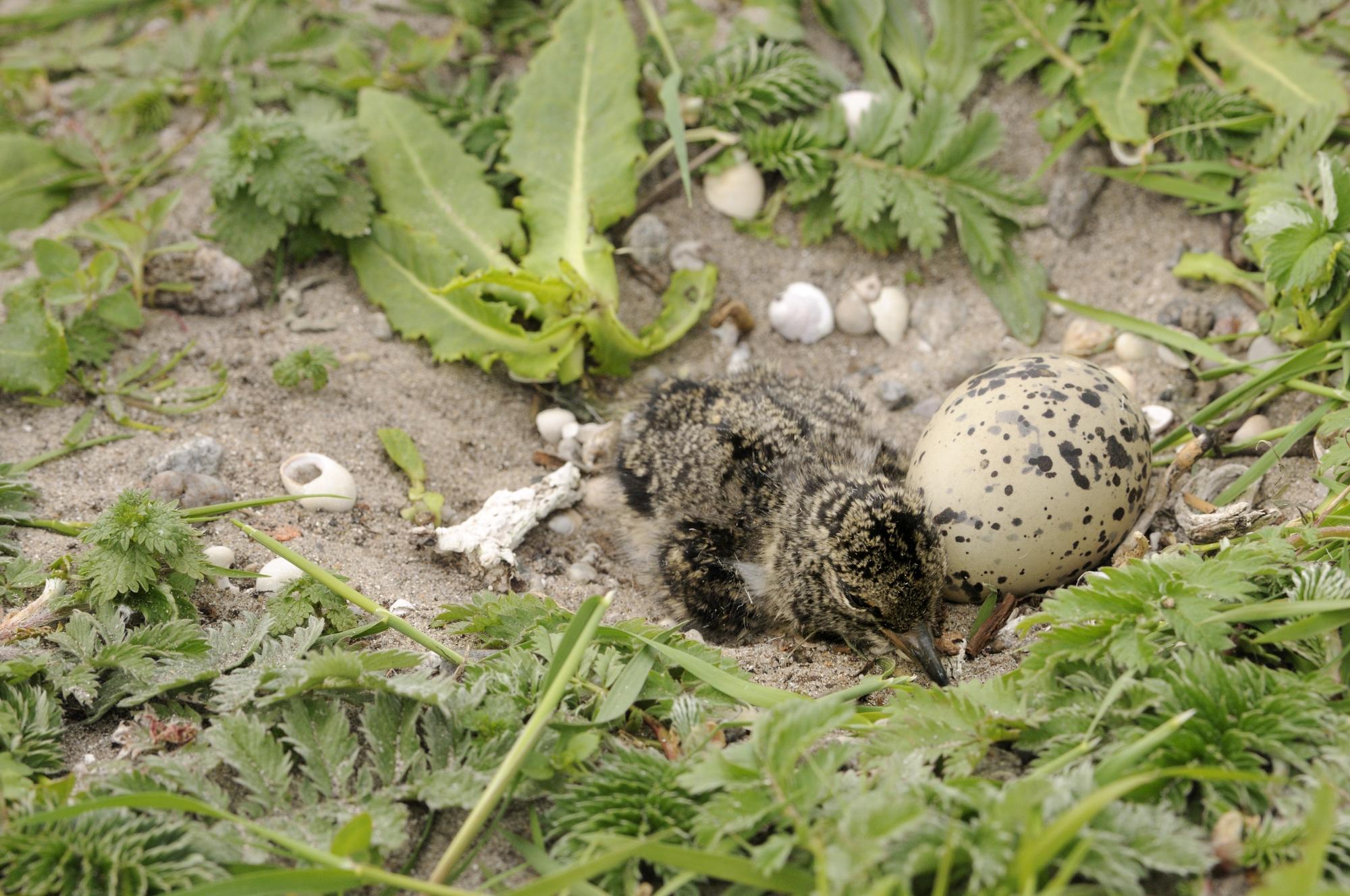 Getting too close to wildlife when exploring the outdoors can also put yourself and those around you at risk, as some animals may become aggressive when they feel threatened. For example, allowing a dog to run up to seals resting on the shore may result in the dog getting bitten and you getting hurt if you try to intervene.
It is also important to remember that some irresponsible behaviours towards wildlife may be a criminal offence.
Most wildlife disturbance happens by accident when we are exploring outdoors. The good news is that we can all do our bit to prevent it by following the tips below and the Scottish Outdoor Access Code.
Why is this an issue?
Research on over 400 species has shown a 15% decline in average abundance since 1994, so we all must do our best to help our animals survive and thrive, which includes minimising disturbance.
Causing a bird to fly away may not seem like anything to worry about but, in trying to escape from you, the bird is using valuable energy and could get injured. It may also abandon a nest or young. Although you may feel that your actions have little impact, others may have been in the same area before you. The repeated disturbance causes unnecessary stress, particularly during the breeding season for that species or during cold weather.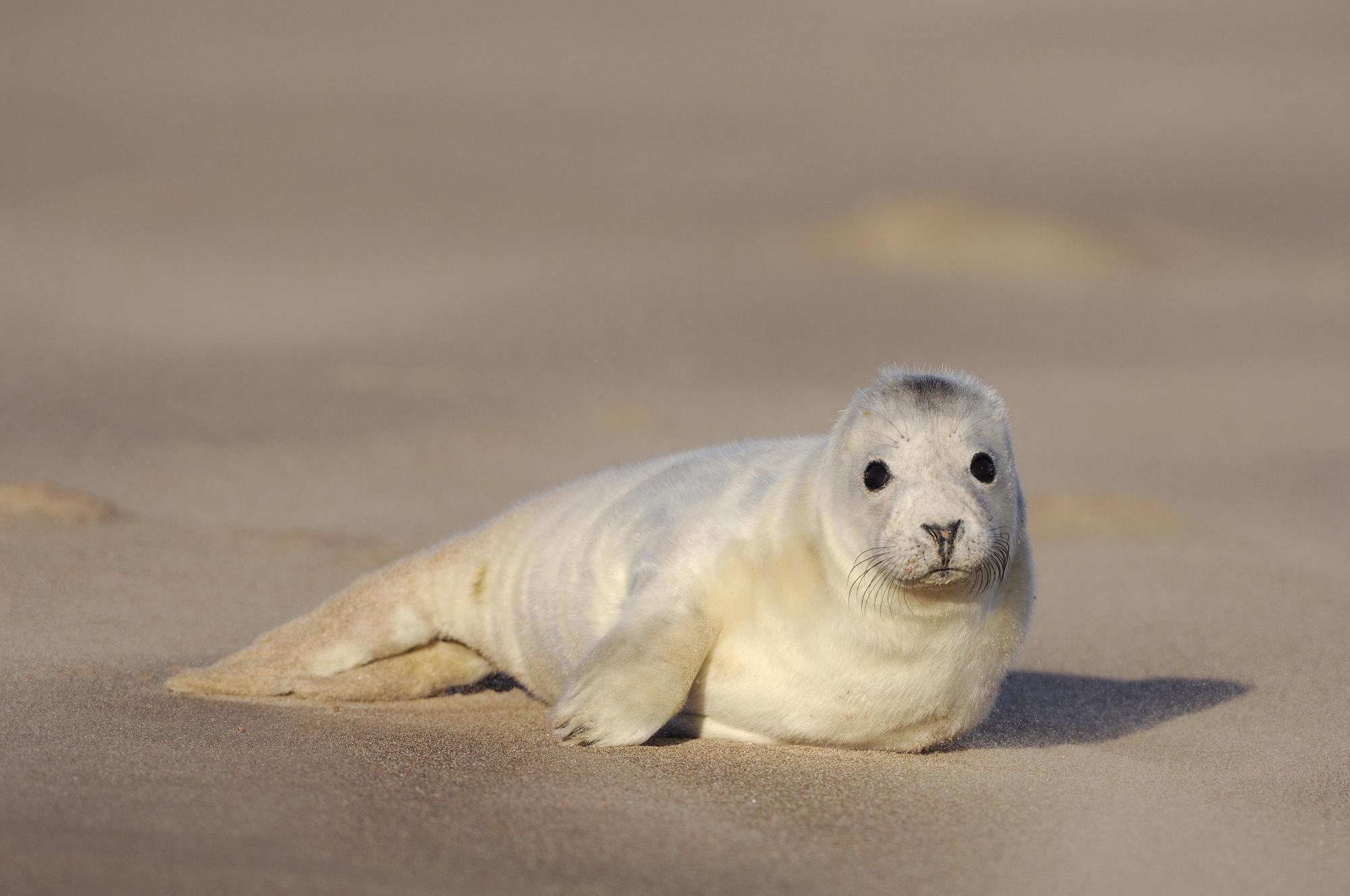 Top tips for protecting Scotland's wild animals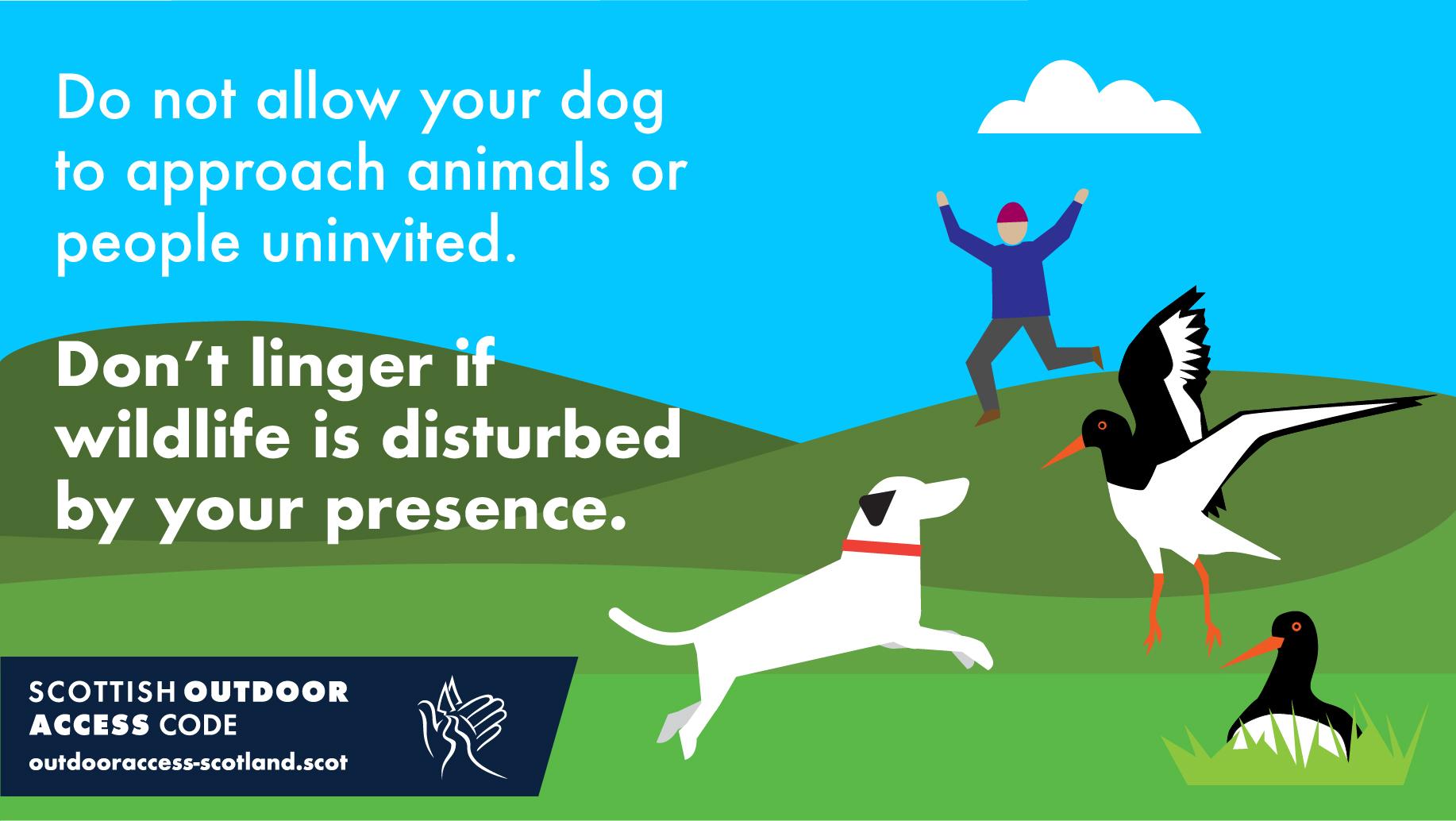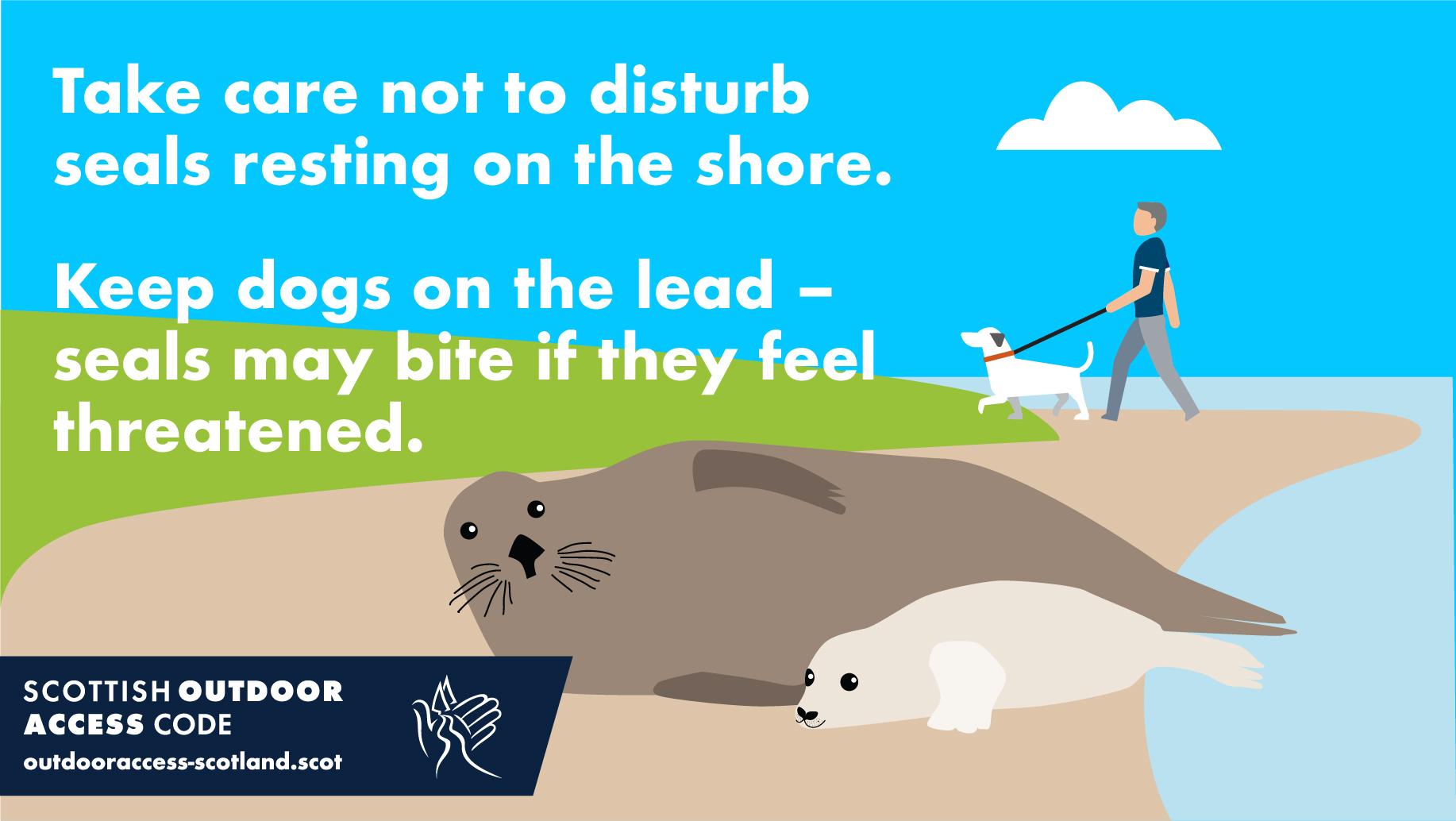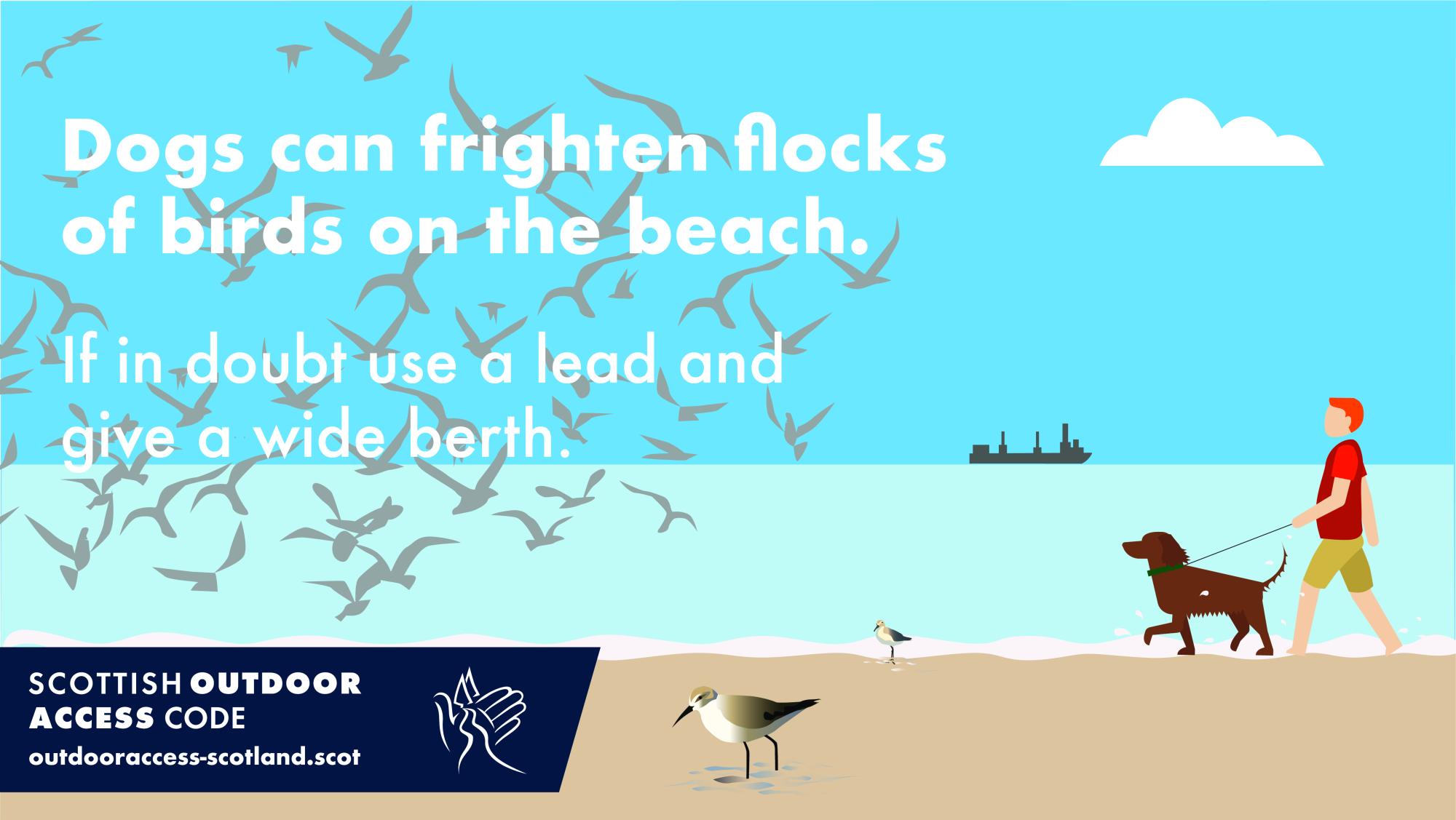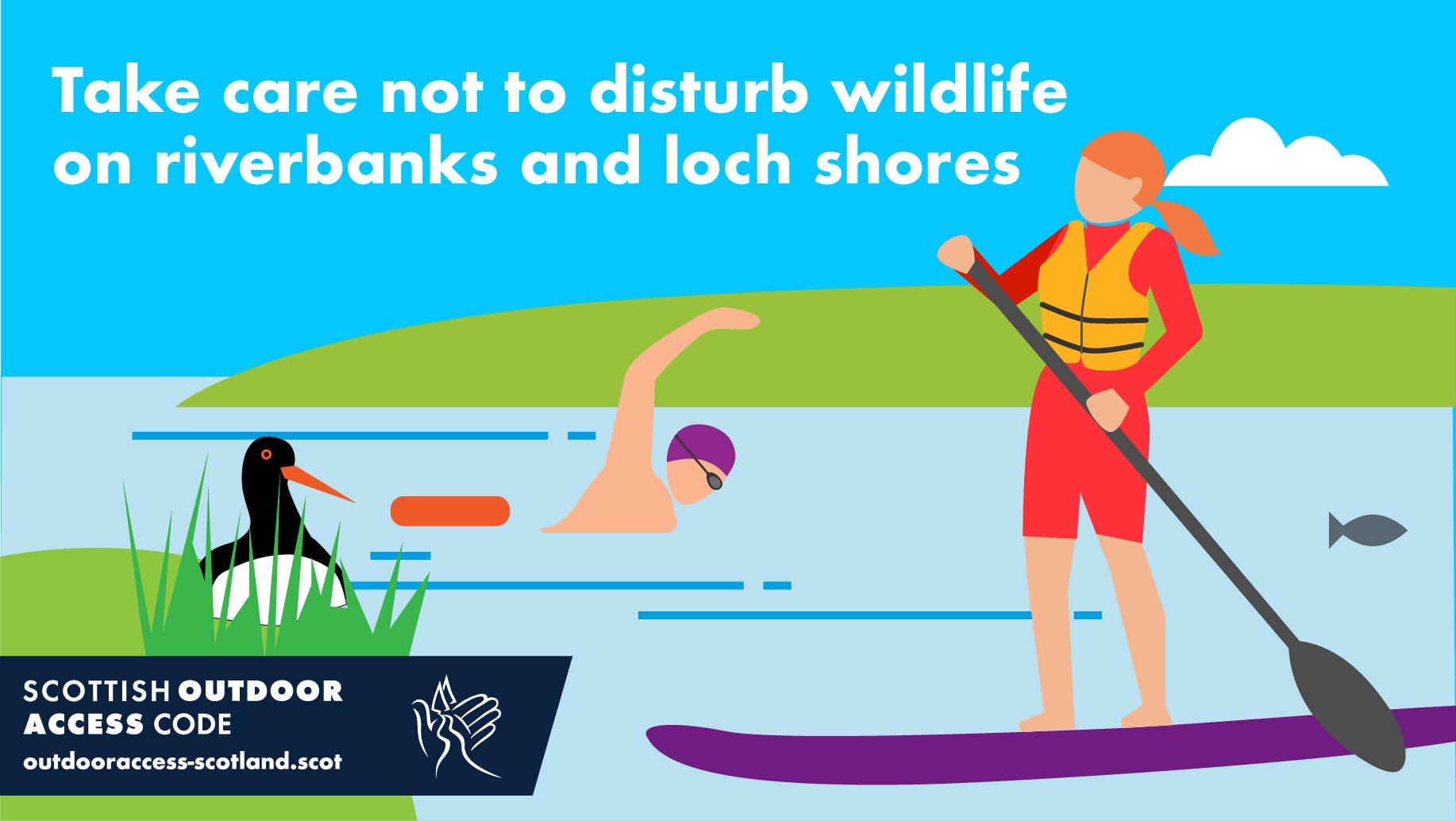 As soon as you see wildlife, assess the situation. What are the animals doing? Where are they going? How can I avoid disturbing them?
Always watch wildlife from a respectful distance and learn to spot the signs of disturbance (such as "heads up" responses, alarm calls, sudden movements or aggressive behaviour) so you know when your presence has a negative impact. Be prepared to move away when you see these behaviours.
If you are passing close to wildlife, do so slowly and cautiously. Make sure that your movements are steady and predictable, and do not approach directly.
Move away from wildlife as quietly and carefully as possible – your exit should be as careful as your approach.
Even a well-trained dog can frighten wildlife by being curious when exploring. So, it's safest to keep your four-legged friend in sight (so you can see what it is doing) - or on a lead - when you're unsure if there are animals nearby. For example, you may not see deer hidden in woodland or hares hunkered down in fields, but your dog will be able to smell them.

It is particularly important to keep your dog close to you when ground-nesting birds are breeding and rearing their young – usually from April to July – in areas like moorland, forests, grassland, loch shores and the seashore.
Allowing your dog to chase wildlife may seem harmless, but it causes immense stress to the animal and could result in an accident, such as if a deer runs onto a nearby road to escape. 

Use paths wherever possible - to prevent damage in more sensitive natural habitats and to avoid disturbing animals and nests hidden in long grass or camouflaged on the forest floor.
When doing water-based activities, take care when entering and leaving the water and avoid any no-paddle zones to help protect birds that nest at the edges of lochs and rivers. Take extra care if you are passing by or landing on an island, as these can often be a good refuge for wildlife.
Follow any locally available advice or signage about avoiding disturbance to wildlife. You may also find information on how to spot more elusive species on these signs, so it's always worth pausing to read them.
Take litter away with you to prevent it from injuring wildlife.  
There are also various guides to help you avoid disturbing wildlife, depending on the activity you are taking part in.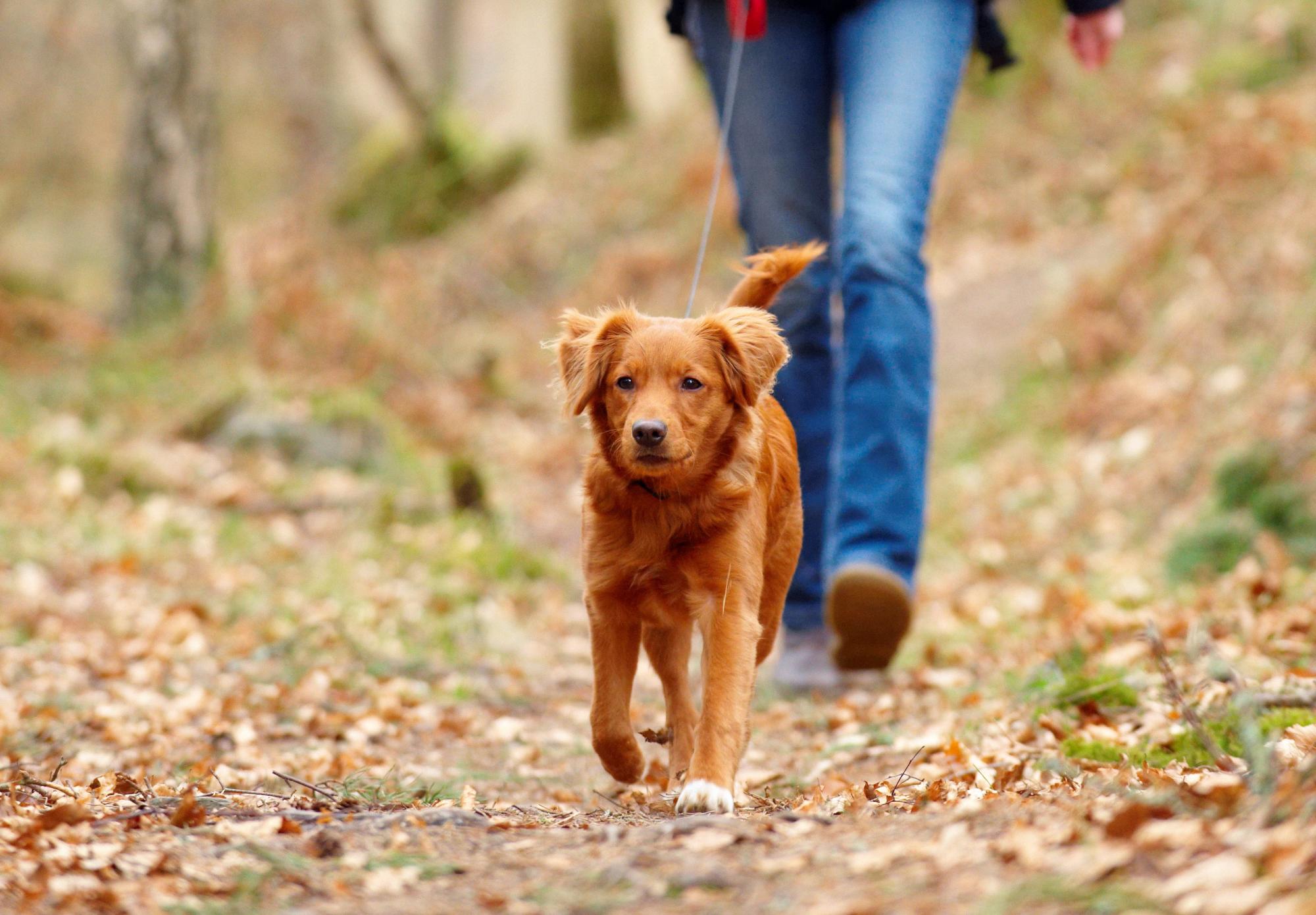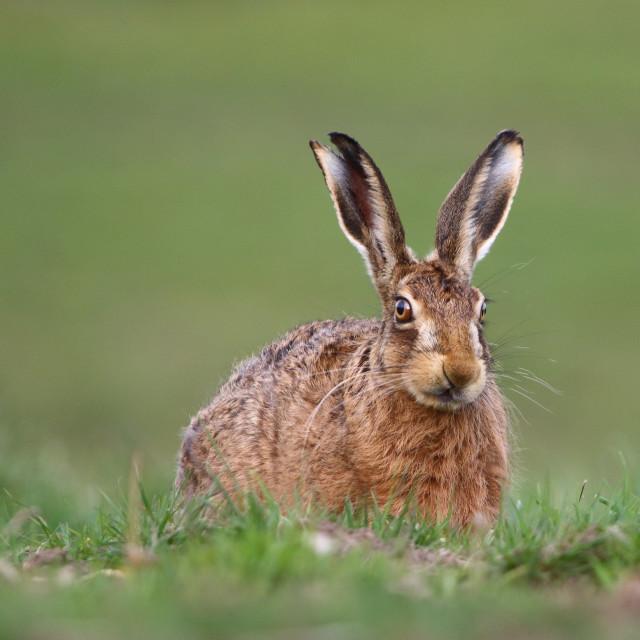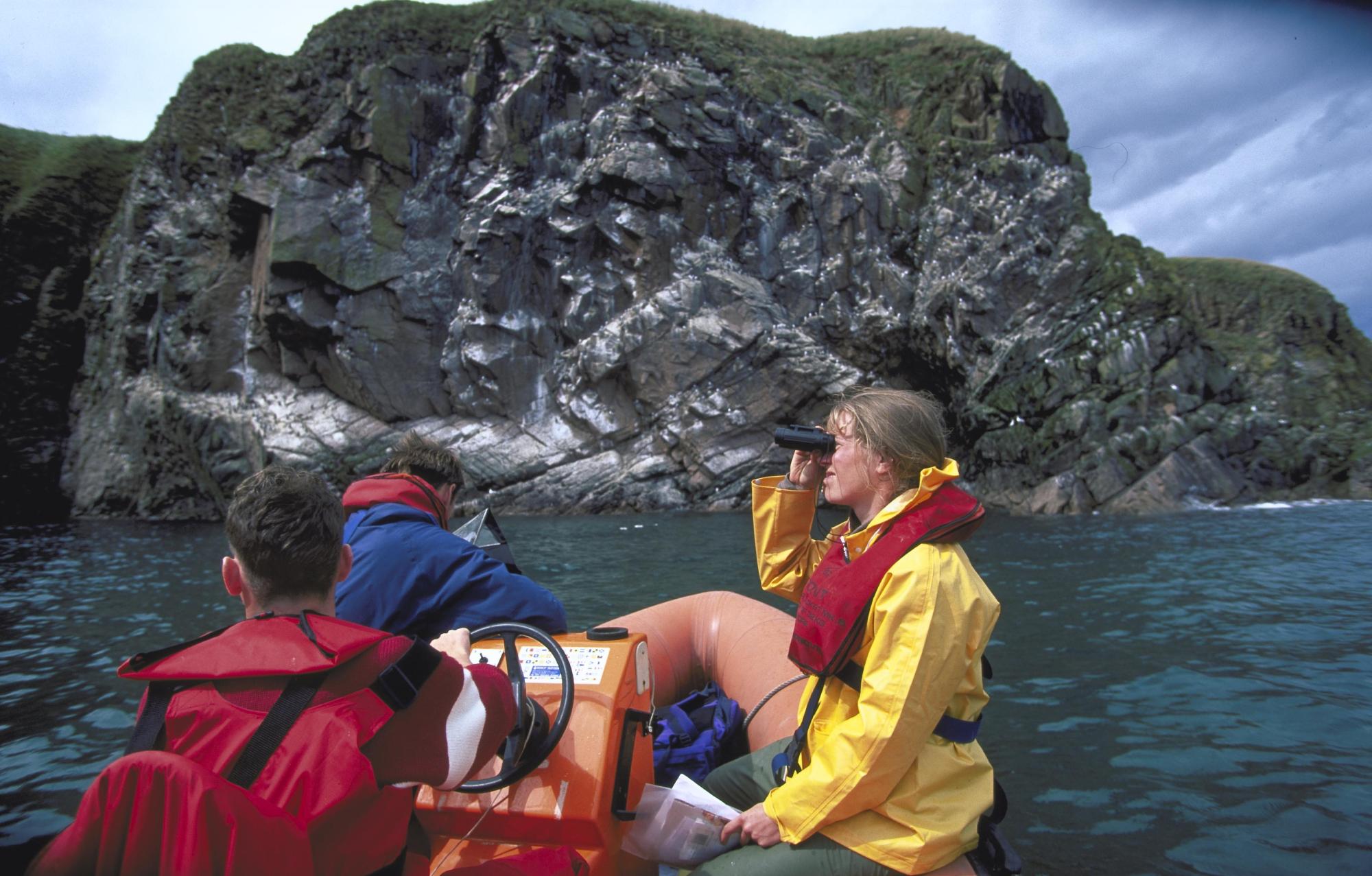 Protected species and sensitive sites
Nature reserves and other conservation areas are great places to explore and connect with nature but remember that they are carefully managed for conservation and to safeguard rare animals and plants. 
Depending on your activity, you might be told to follow a specific route or avoid being in an area. For example, you might be asked not to walk on a beach where birds are nesting or not to climb particular cliffs or sections of cliffs during the breeding season. By carefully following local guidance such as this, you can be sure that you are helping to protect Scotland's most threatened wildlife and sensitive sites.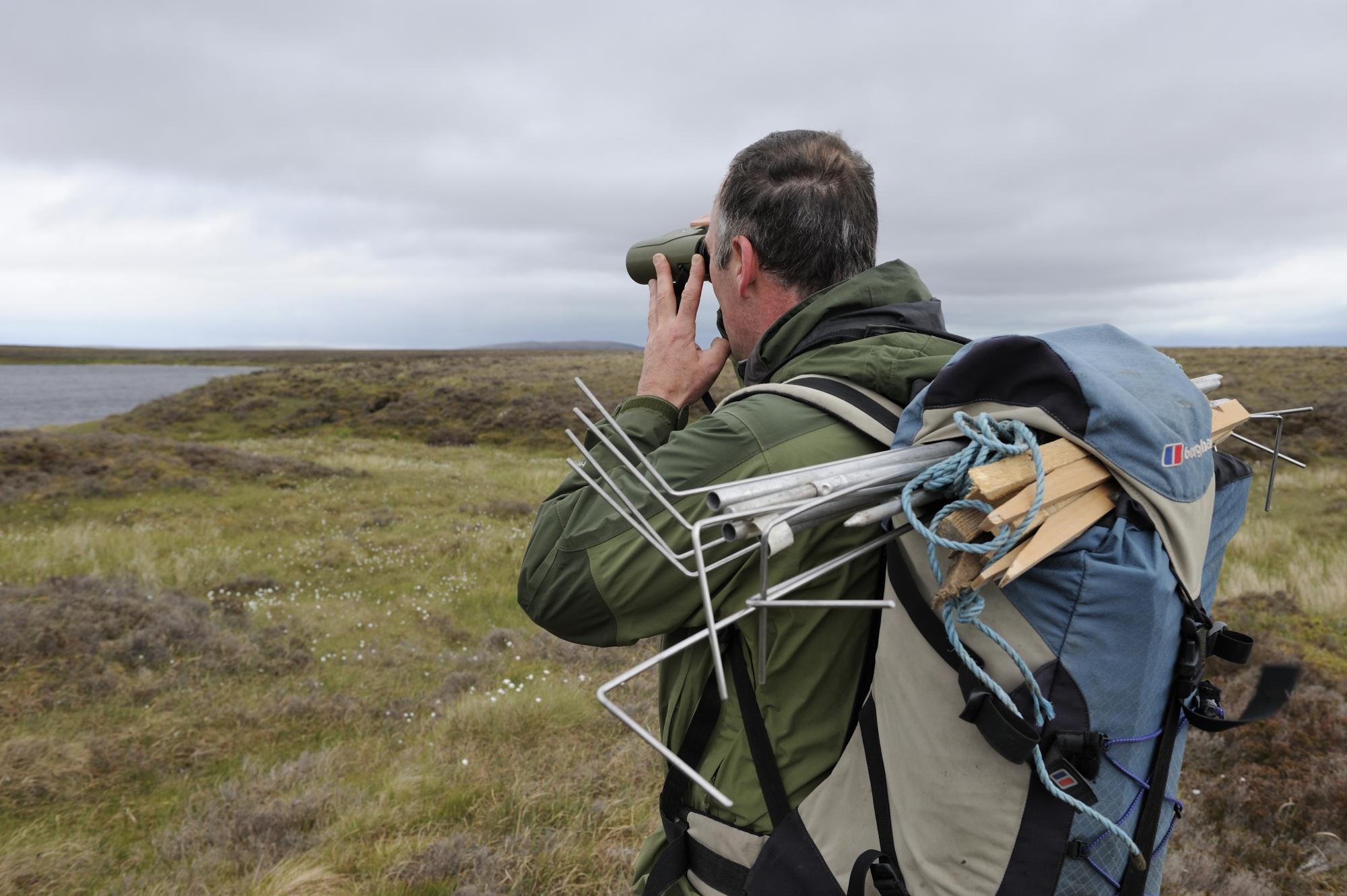 Advice for land managers
Provide information (such as on signs) on the importance of the site and on the best routes for people to follow to help minimise damage and disturbance and increase awareness of wildlife. 

Remember to remove temporary signs highlighting sensitive areas during breeding seasons or showing suggestions for reasonable alternative routes when these are no longer required.

Where possible, provide good paths for people to use.
If you believe that access is causing problems for wildlife on your land, discuss these issues with your Local Access Forum/Officer.
The National Access Forum has developed guidance on managing public access in areas of wildlife sensitivity in Scotland. The principles outlined in this guidance apply to a wide range of nature conservation situations.