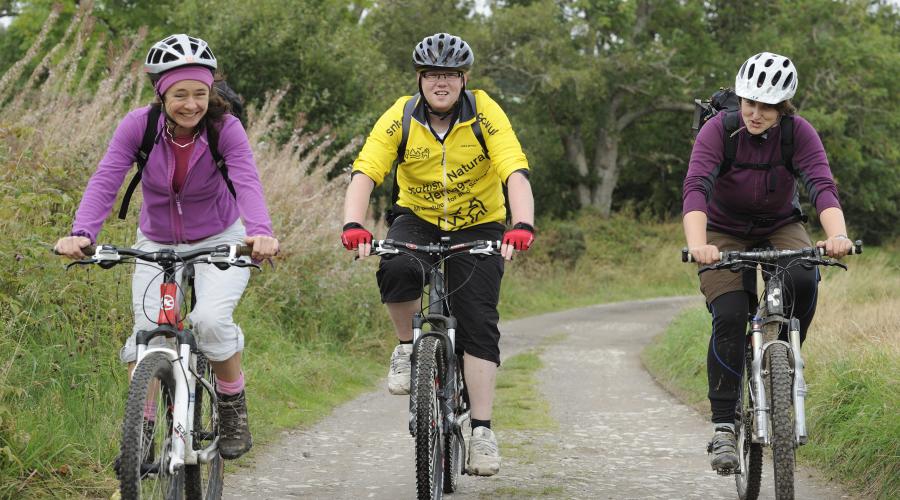 Visitor planning
Managing access in farms, estates and other places that are popular for recreation.
The Scottish Outdoor Access Code provides guidance on responsible behaviour to help ensure that public access does not unreasonably affect land management, other people or the environment. A variety of guidance is available, if needed, to help land managers, access officers and others to integrate access with other activities.
General guidance for land managers
Public Access and Land Management (PALM) summarises land managers' obligations in relation to public access and promotes a planned approach to help address any issues that arise. The following case studies demonstrate effective access management in different land management situations:
The Health and Safety Executive information note Cattle and public access in Scotland provides advice on minimising the risk to the public from cattle, particularly where bulls or newly calved cattle are grazed.
Outdoor events in Scotland - Guidance for organisers and land managers recognises that organised events are an important part of Scotland's outdoor life, encouraging people to enjoy the natural environment and helping to support good causes. Careful planning and management, including effective communication with all relevant interests, is very important to maximise the benefits of such events and minimise any adverse effects. This guidance is intended to help event organisers, land managers and public bodies to plan and manage events in Scotland that are based on active outdoor recreation, such as walking, running, cycling, horse riding and canoeing.
A Brief Guide to Occupiers' Liabilities in Scotland outlines the general legal position regarding public outdoor access and summarises relevant case law.
Managing access at popular recreation sites
Towards Responsible Use: Influencing Recreational Behaviour in the Countryside summarises different ways to influence peoples' behaviour in the outdoors, reduce impacts and help to foster more responsible attitudes amongst visitors and between different groups of users.
Communication, Not Conflict: Using Communication to Encourage Considerate Shared Recreational Use of the Outdoors describes communication techniques which can help to prevent or resolve conflicts between groups of people using the outdoors for different recreational pursuits.
Management for People presents, in five modules, a recommended process of planning for visitors at popular destinations.
Guidance on managing issues linked to commercial or intensive access has been developed jointly by the National Access Forum and Scottish Outdoor Access Network to help access officers, local access forums and others to address any issues which arise in conjunction with commercial outdoor activities that take place under access rights.
Last updated: