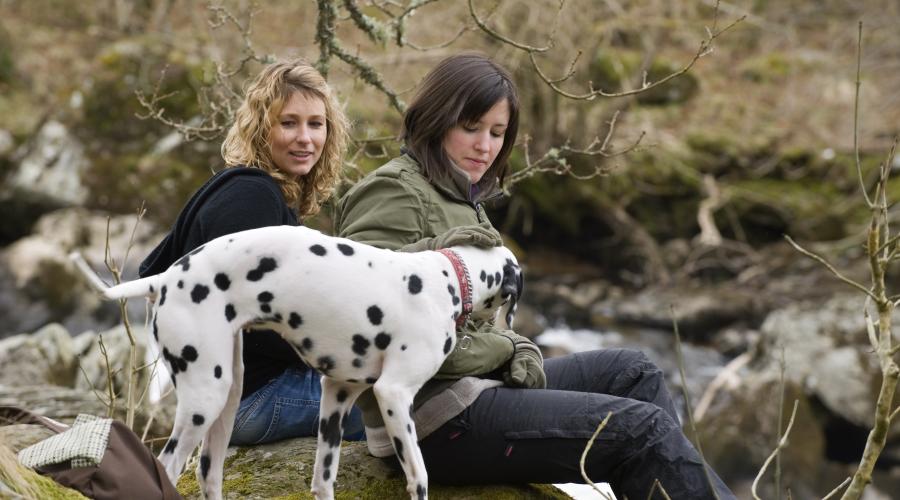 Managing access with dogs
Dealing with issues linked to dog walking and commercial dog walking.
Promotional campaigns
In Scotland, we know that:
in 2011, there were an estimated 360,000 dogs living in 280,000 households;
in 2012, an estimated 134 million visits were made to the outdoors with a dog;
a significant number of people keep fit by walking a dog;
one third of all hill-walking trips are with a dog, and
over half the trips made with dogs are to wildlife areas.
Irresponsible dog walking can sometimes cause problems for land managers and others, but most dog walkers behave responsibly. Many dog walkers are great ambassadors for responsible behaviour and can be valuable eyes and ears on the ground. NatureScot has created various campaign resources based on the Scottish Outdoor Access Code which can be used to encourage responsible access with dogs in particular places.
Campaign 1: Know the Code before you go
Dog owner leaflet: Jess the dog describes the main responsibilities of dog owners when enjoying the outdoors with their dog in the Dog owners' leaflet.
Dog owner passport: These credit-card sized 'passports' provide key messages about access with dogs. There is a choice of 3 versions which include different messages about conservation, land management and enjoying the outdoors. These are a great way to strike up conversation with dog walkers to remind them of their responsibilities.
Signs: You can create your own signs for a variety of different situations using the Access Code approved online templates.  
Campaign 2: 'Your dog doesn't know any better, make sure you do' featuring the dogs Dotty, Daftie and Loopy
Daftie poster This poster aims to raise awareness about the dangers of cattle who can react aggressively.
Dotty poster To be used for advertising events or adding local information or advice this poster also raises awareness of the five key messages about disturbance to livestock, nesting birds, dangers of cattle, avoiding planted fields and contamination of growing crops and the importance of picking up dog waste.
Loopy poster This poster aims to raise awareness about never allowing your dog worry or attack farm animals and keeping your dog on a short lead or under close control in fields where there are sheep.
The posters below have some blank space for you to include your local site or issue-based information. To add this online, click on the typewriter symbol and then double-click the text boxes to alter the information. Alternatively you could print and complete by hand.
Campaign 3: 'Jess the dog'
The most recent campaign targeting the general public features Jess the collie dog. The dog owners' leaflet  features Jess and accompanies 3 radio adverts about dog fouling and farm animals.
Radio advert 1 - Pick up after your dog in the park
Radio advert 2 - Pick up after your dog in the countryside
Radio advert 3 - Control your dog near farm animals
For further information on these campaigns targeting dog owners and dog walkers, please email NatureScot at: [email protected].
Other Campaigns
The Scottish Partnership Against Rural Crime (SPARC), led by Police Scotland, has launched a campaign and short video to help prevent dog attacks on livestock.
Find out more:
Dog waste and disease poster
Risk of the spread of disease in livestock from dog faeces
Last updated: