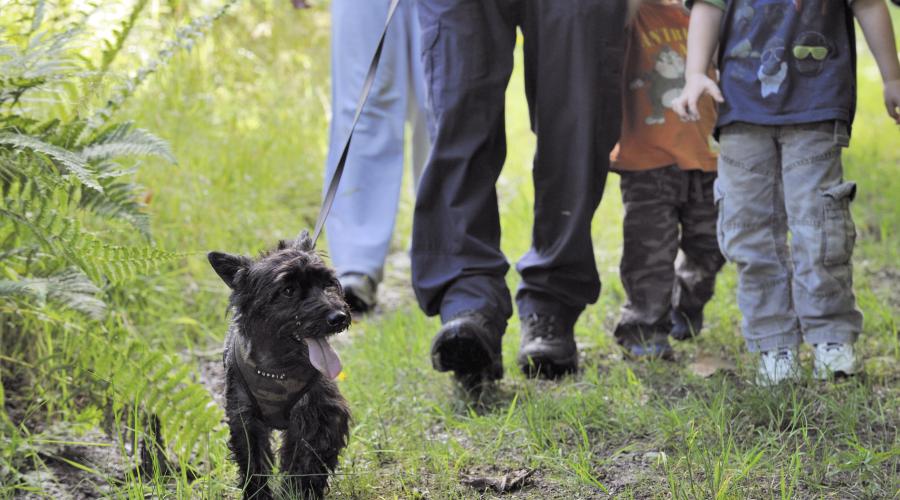 Dog walking
Follow the Scottish Outdoor Access Code and be a responsible dog walker.
Responsible behaviour by the public
The Access Code says:
Access rights apply to people walking dogs as long as their dogs are kept under proper control. Your main responsibilities are:
Farm animals:
Never let your dog worry or attack farm animals
Don't take your dog into fields where there are lambs, calves or other young farm animals
If you go into a field of farm animals, keep your dog(s) on a short lead or close at heel and keep as far as possible from the animals
If cattle react aggressively and move towards you, keep calm, let the dog go and take the shortest, safest route out of the field
Crops:
Don't take your dog into fields of vegetables or fruit unless there is a clear path, such as a core path or right of way, and keep your dog to the path
Ground nesting birds:
During the breeding season (usually April-July) keep your dog on a short lead or close at heel in areas such as moorland, forests, grasslands, loch shores and the sea shore to avoid disturbing birds that nest on or near the ground
Recreation areas and public places:
 avoid causing concern to others by keeping your dog close at heel or on a short lead
Dog waste:
Pick up and remove your dog's faeces if it defecates in a public open place
Responsible behaviour by land managers
The Access Code says:
Do not allow a guard dog or working dog to alarm people, especially close to paths and tracks.
The Code also provides advice about farm animals and fields with young animals.
Guidance on managing any access issues linked to dog walking can be found here. If you are encountering problems linked to dog walking, you could discuss this with your local authority (or National Park Authority) access officer.
Legislation
Collar/Tag
When in public, every dog must wear a collar with the name and address of the dog owner inscribed on it or on a tag attached to the collar (Control of Dogs Order 1992).
Microchipping
All dogs must be microchipped by the age of eight weeks. It is illegal for any breeder to sell or otherwise transfer a puppy to a new owner unless it has been microchipped and the breeders details recorded on the database (The Microchipping of Dogs (Scotland) Regulations 2016).
Last updated: