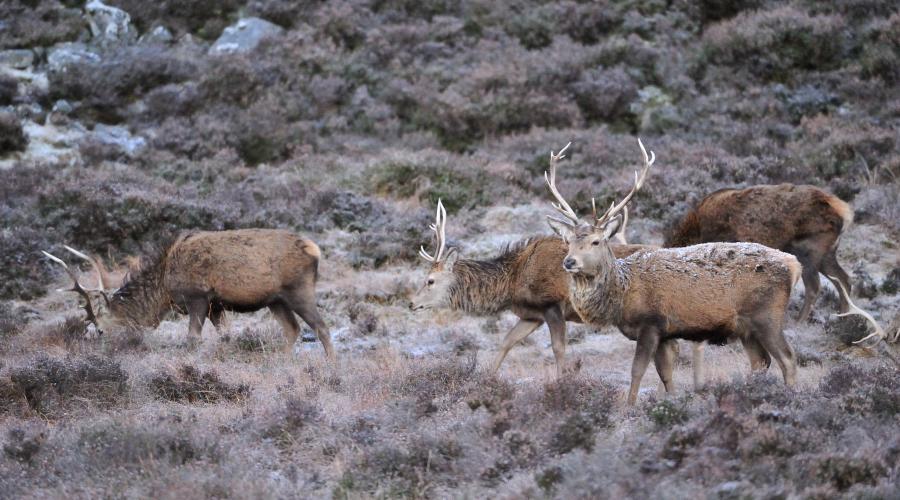 Deer management
Visiting hills where deer stalking takes place.
While exploring Scotland's uplands, you should be aware that deer stalking (shooting and killing them humanely) takes place from 1st July to 15th February in the hills.
Follow this guide to learn why we need to manage deer and discover how you can help fight climate change, help increase biodiversity and assist rural businesses and communities by taking simple steps to avoid deer disturbance.
Please note: this page covers red deer management in the Scottish uplands. The deer stalking in forests and woods page provides information on how you can help lowland deer management.
Why manage deer?
Globally and in Scotland, nature is in decline and we face a climate emergency. Deer are an iconic species, but their high numbers in some areas and lack of natural predators mean they can harm habitats through browsing, grazing and trampling. 
The sustainable management of Scotland's deer - including a significant reduction in some places - will help to protect and restore biodiversity and tackle climate change.
Stalking and fencing are the main deer management methods currently used in Scotland. Stalking helps to balance deer numbers with the environment and enables the natural regeneration of trees, shrubs and other vegetation. It also contributes to the welfare of the deer, as any suffering from disease, malnourishment and injury can be culled humanely. In the absence of natural predation, it falls to people to manage the growing deer populations with care, respect and using the latest scientific knowledge and research.
How you can help
Activities such as hill walking increase the likelihood of us accidentally disturbing essential red deer stalking. Deer are alert to human activity from a great distance, so it is often impossible to tell when our presence has unsettled them, or moved them away from areas where stalking is taking place - making it more difficult, or impossible, to cull deer in that area on that day.
By taking simple steps to avoid deer disturbance, such as finding out where deer stalking is happening and following requests to use alternative routes, you can play your part in the recovery of nature in our uplands.
When and where stalking takes place in the hills 
Stalking periods are determined by the natural seasonal breeding cycle and movements of red deer, as well as welfare considerations.
Red deer stag (male) stalking currently takes place between 1st July and 20th October, with increasing activity from August. The first three weeks of October are the busiest time of the stag stalking season and a key period of the year to achieve reductions in deer numbers.
Red deer hind (female) stalking takes place from 21st October to 15th February, with the end of the season often being a key period when deer managers work hard to achieve their cull targets.  
Many land managers provide information about where and when stalking happens on the Heading for the Scottish Hills service. This website is an important source of information that helps anyone heading outdoors into the hills during the stalking season to plan routes that minimise the chance of disturbing stalking.
Actions you can take
Throughout the red deer stalking period from 1st July to 15th February:
Plan ahead - use the Heading for the Scottish Hills service (and other information sources such as Walkhighlands and some estate websites) to help you find out where stalking is happening. Stalking does not usually take place on Sundays.
Plan and follow a route that avoids crossing land where deer management is taking place.
Pay close attention to signage on arrival and throughout your visit, and follow reasonable advice from land managers on alternative routes.
Be flexible - be prepared to adjust your plans to take a different route if necessary.
If specific information is unavailable for your route, you can minimise the risk of disturbing stalking activity by using the main routes and following ridges.
Always keep your dog in sight and under control when exploring the Scottish hills - if in doubt use a lead.
Responsible behaviour by land managers
Be aware of where recreational use is likely, such as along paths, popular routes and ridge lines. Tell people where stalking is happening - for example, by using signs and information boards (in accordance with this Code), to give on-the-day information on stalking and alternative routes.
Heading for the Scottish Hills provides a simple way for land managers to tell people where red deer stalking is taking place. The service can help reduce disturbance, as well as promote responsible behaviour and understanding of deer management. 
Further information for land managers
Last updated: