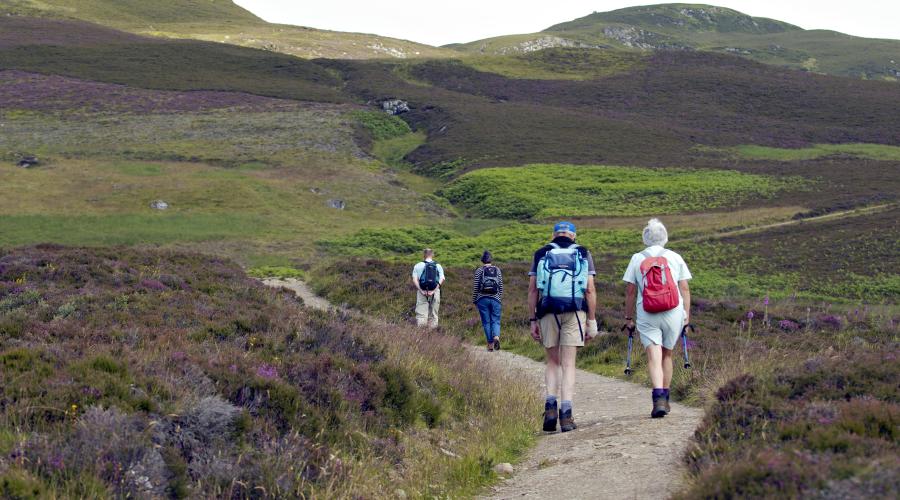 Heading for the Scottish Hills
Hillwalking during the deer stalking season.
Heading for the Scottish Hills
The Heading for the Scottish Hills service helps you find out where deer stalking is happening on Munros, Corbetts and other popular hills throughout Scotland, so you can plan hill routes that minimise the chance of disturbing stalking, in line with the Scottish Outdoor Access Code.   
The uplands are a much-loved destination for anyone wanting to experience Scotland's great outdoors but activities such as hill walking also increase the likelihood that we accidentally disturb essential deer culling. Increased deer culling is necessary to stop overgrazing, enabling our upland habitats to recover as part of our response to the nature and climate crises. 
Deer are alert to human activity from a great distance. So, it is often impossible to tell when our presence has unsettled them, or moved them away from areas where stalking is taking place, making it more difficult, or impossible, to cull deer in that area on that day.
Due to the biodiversity and climate crises, the Heading for the Scottish Hills service is expanding in 2023 to cover the red deer stag and hind stalking seasons from 1st July to 15th February.
You can help to minimise disturbance during this whole time and especially during two key periods - from the 1st to 20th October and towards the end of the hind season, which ends on 15th February.
By taking simple steps to avoid deer disturbance, such as finding out where deer stalking is happening and following requests to use alternative routes, you can play an important role in the recovery of our uplands, fighting climate change, increasing biodiversity and helping rural businesses and communities.
Always keep your dog in sight and under control when exploring the Scottish hills - if in doubt use a lead.
Even if you head to the hills often, you should check this page regularly to get up-to-date information before you plan your route.
Some estates provide broad messages indicating the general period in which deer stalking takes place. Use the contact details provided to get further (up to date) information to help you plan your route.
If specific information for your route is not available, you can minimise the risk of disturbance by following the steps below:
Pay close attention to signage on arrival and throughout your visit, and follow reasonable advice from land managers on alternative routes. 
Use the main routes and follow ridges.   
The map and tables linked below provide stalking information for popular hills throughout Scotland. Hind stalking information will be added to the tables during summer 2023.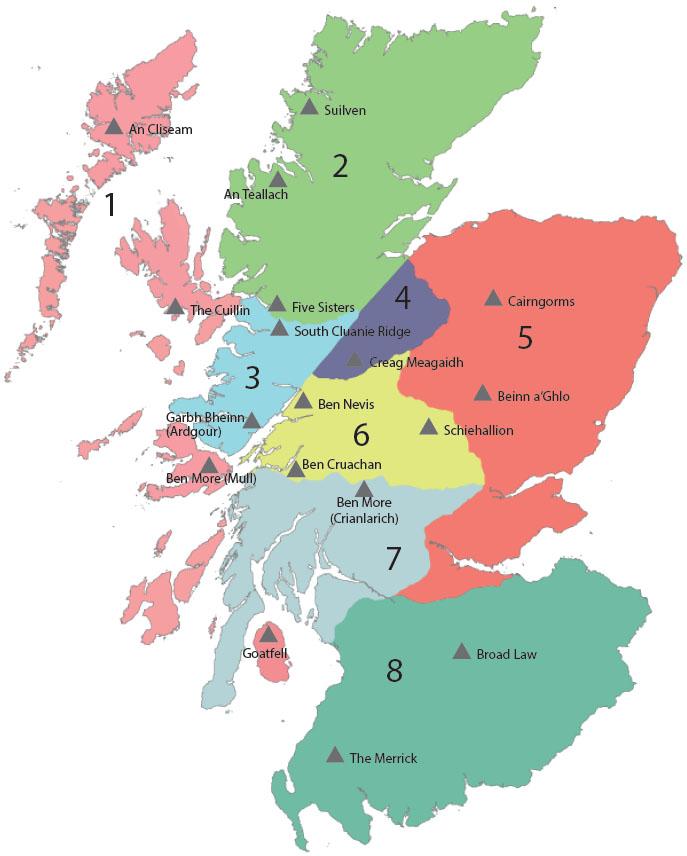 1. Islands
2. Northern Highlands
North of Glen Shiel and the Great Glen.
3. Western Highlands
West of the Great Glen and south of Glen Shiel.
4. Creag Meagaidh and The Monadhliath
5. Eastern Highlands
East of the A9 (Perth-Inverness).
6. Central Highlands
Area enclosed by Loch Linnhe, Glen Spean, the A9 (Inverness-Perth) and the A85 (Perth-Lochearnhead-Crianlarich-Oban). Includes Glen Coe, Glen Nevis, Ben Lawers, Ben Alder and the Drumochter Hills (west).
7. Southern Highlands
South of the A85 (Perth-Lochearnhead-Crianlarich-Oban).
Find out more
How to join Heading for the Scottish Hills – information for land managers
Last updated: